If you're looking for a unique and stylish way to store your beverage of choice, you may want to consider customizing your bamboo fiber jug. This is a great way to show off your personality and style, and it's also a great conversation starter. In this blog post, we will discuss the process of customizing your jug and some of the different options that are available to you. We will also provide some tips on how to make sure your jug looks its best. Let's get started!
Bamboo fiber is becoming an increasingly popular material for a wide range of products, from clothing to tableware. Bamboo fiber jugs are a great way to add a unique touch to your kitchen or dining room. And, with a little customization, you can make your bamboo fiber jug truly your own. Here are some ideas to get you started: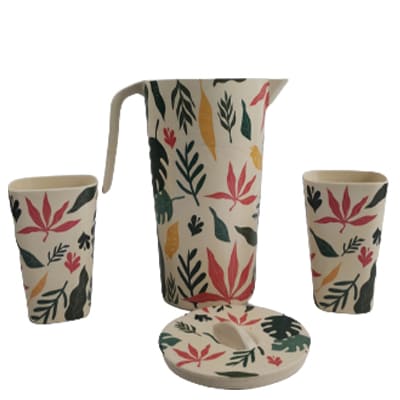 Why did you choose the bamboo fiber water jug?
Bamboo fiber is a sustainable, natural, and biodegradable material that is becoming increasingly popular as an eco-friendly alternative to plastic. Bamboo fiber jugs are a great way to reduce your reliance on disposable plastic water bottles and help to protect the environment. But why stop there?
You'll never have to worry about your water bottle again. The Bamboo Fiber Jug is leak-proof and shatter-proof, so you can take it anywhere without having to worry about it breaking. And since it's dishwasher safe, you can easily clean it after use.
This amazing product is perfect for keeping your drinks cold all day long. It's made of bamboo fiber, so it doesn't absorb any of the flavors or smells of the liquids inside. Whether you're relaxing at home, this jug will make sure your drink stays refreshingly cold. 
Not only does it keep your drinks cold, but it also looks stylish and modern. You can choose from a variety of colors to perfectly match your style. It's the perfect way to show off your personality while enjoying a cold drink.
How to choose the right size if the client purchase in bulk?
If you need to buy large quantities, search for a bamboo fiber jug supplier/wholesale. Different suppliers have different product shapes, volumes, or decals. For example, Hui-He tech, a manufacturer that offers bamboo fiber water jug and 4 cup sets in 17.5*11*24/1300ML and 19*12*23/1500ML sizes, supports 100% customization service with over 3000 sets and you can order personalized decals to meet your unique range of products.
How to make a personalized design?
Choose a color that matches your personality. We recommend choosing an eye-catching, vibrant color. If you don't like the design (print) provided by the supplier, you can customize your design by simply providing a vector image (AI, CDR) online or by email. However, you have to meet the supplier's minimum order quantity, otherwise, small orders do not support customized designs.
How do I pay for my products when I buy them in bulk?
When you buy in bulk, you can usually get a discount from the supplier. However, you will need to pay for the products upfront. The most common payment methods are wire transfer and PayPal. You can also use a credit card, but there may be an additional fee. Be sure to ask about payment terms and conditions before you place a bulk order.
As you can see, there are a few things to consider when customizing your bamboo fiber jug. But don't worry, we've got you covered. Just follow the tips above and you'll be sure to create a unique and stylish jug that reflects your personality